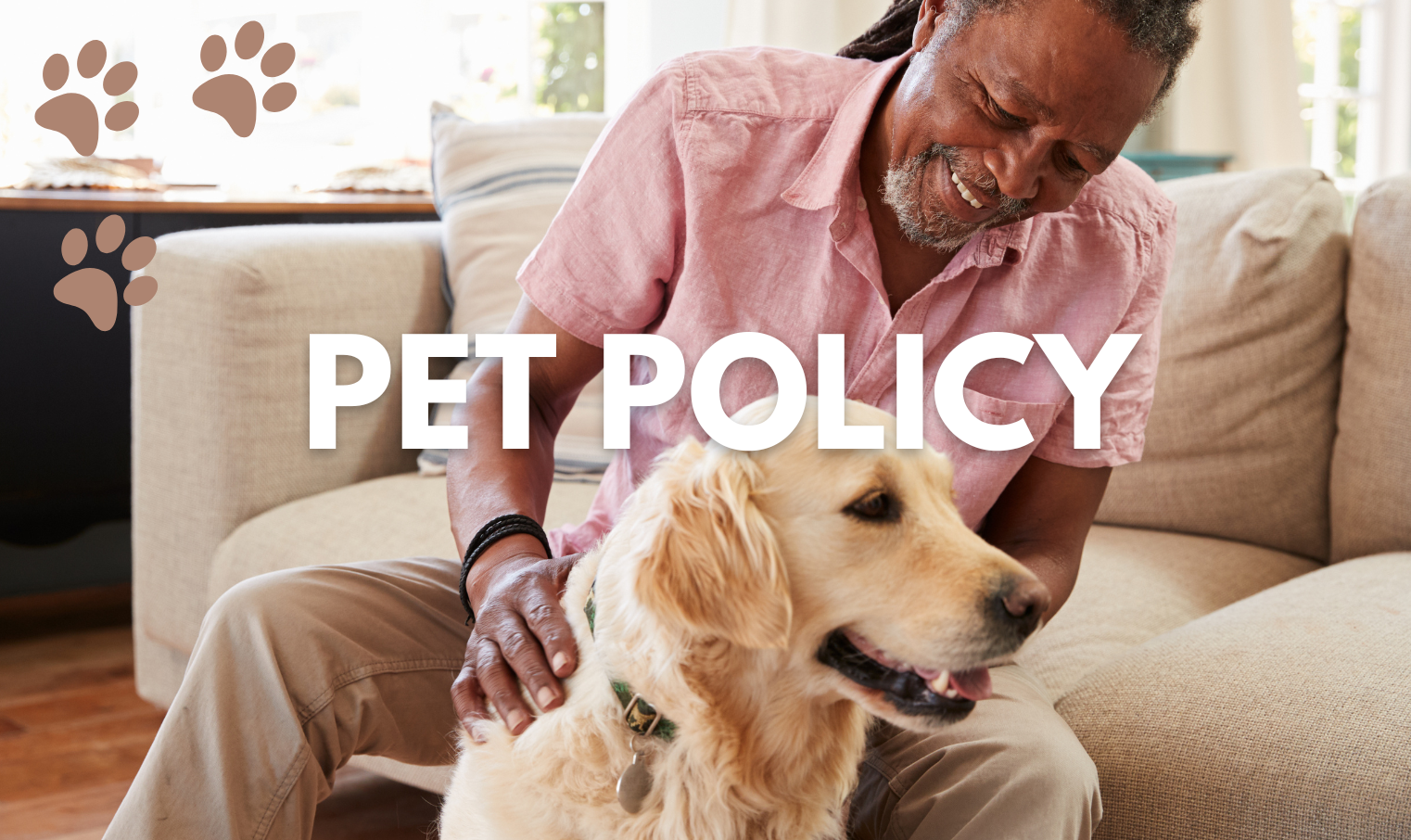 At Greenfield Apartments, we love pets and are happy to welcome them into our community. However, we also have a responsibility to ensure the well-being of all our residents, including those who don't have pets. Additional pet and animal guidelines are provided below.
Screening Procedures
We use PetScreening.com, a third-party screening service that will review all household pets, verify reasonable accommodation requests for assistance animals, and ensure that all residents are aware of our pet policies.
All current and future residents are required to complete and maintain at least one of these pet profiles throughout their residency, including those who do not own a pet.
Household Pet Profile - A small profile fee will be charged by PetScreening.

Assistance Animal Profile No fee

No Pet Profile No fee
We understand that pets can be an important part of your life, which is why we strive to make our pet screening process as easy and convenient as possible. The screening can be completed online at any time prior to move-in, and the results are typically available immediately. For those who have assistance animals, the screenings may require additional time.
Complete PetScreening.com profile here.
Permitted Pets
We allow up to two pets per apartment. We accept the most common household pets, including dogs and cats. However, we do not allow birds, fish, reptiles, rodents, or other exotic animals.
Breed Restrictions
We reserve the right to deny any pet that may be deemed aggressive or dangerous to our community, and this includes breed restrictions. To protect properties and our residents from aggressive canine breeds and their mixes, unless acting as a service animal. We do not allow Akita, American Bulldog, Chow, Doberman, Husky, German Shepherd, Pitbull/Staffordshire Terrier, or Rottweiler breeds.
Pet Fees
We require a one-time, non-refundable fee of $250 per household and an additional, refundable pet deposit of $250 per household.
Pet Rent
$25/month per pet
Pet Care
Pet owners are responsible for cleaning up after their pets, always keeping them on a leash while outside of their apartment and preventing excessive barking or noise. Pets must also be current on all vaccinations.
We're excited to welcome you and your pet/animal to our community. Please contact our leasing office for more information or to schedule a tour.
Testimonials
I have been very satisfied with residency here. Very quiet , premises kept clean , staff are efficient & really have no complaints to speak on. Especially compared to other apartment complexes ive came encounter with

- Layla Y.
I have lived here a few months now and absolutely love it. Maintenance is awesome, if you need something done they come right away even on the weekends. Everyone at the leasing office is awesome. It's very quiet here and great neighborhood close to everything. I highly recommend living here and will definitely renew my lease.

- Rachel R.
Living here has been great! It's close to my job, everyone in the office is super friendly, maintenance always comes out to fix things right away and it's extremely peaceful. Definitely the best place I have lived so far!

- Natalie C.
This is a great place to live! The community is nice and quiet and the location is great!

- Lindsay M.
HAD A GREAT EXPERIENCE LIVING HERE! - Joel, and Melissa were always a pleasure to talk to, and work with. - GREAT central location, yet is still able to feel quiet and secluded because it is tucked back in off of Ball. - would recommend to anyone interested in an affordable, enjoyable, place to call home!

- Mckenzie C.
I have been living at Greenfield Apts, for nine years, and I absolutely love it. We have the best management here, and they are so professional, and friendly. We are spoiled here, they have apts that face the woods, like mine and I refer to it as my little peace of heaven, I couldn't imagine living anywhere else. They are close to shopping, restaurants, and the library. We have a beautiful Pool, and recreation room, and laundry room. This makes it easy for people who don't drive, because everyth

- Gayle A.